Well I eventually decided to go for it....as you know I, as well as many others, love Simply Sassy stamps and what better opportunity to display these fabby stamps than being a Guest Designer for them. You can check out the full details
here at the Simply Sassy Blog
.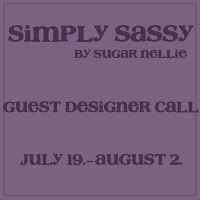 Now the difficult decision was to try and choose my 3 favourite cards, now what I might think are MY favourites might not be other people's favourites so her goes.....I see Cathy had a bit of trouble sticking to 3 aswell....
The first card I have chosen is Luv a Latte, now I chose this one as this was the first card I made using DI's to colour the image. Also my favourite colour combo is blues, greens and brown and my favourite flower die too.
I thought I would choose Fashionista with slightly different papers as I don't normally do pale papers, not sure about the flowers on this one though.
I have picked Hippie chick as she was one of the first Sassy's I bought and I just love her big eyes...I think they are cool to colour and I have used copics to colour this one.
Next up....This Little Light, I picked this one as I spent quite a long time colouring this image again with DI's and although I wouldn't normally colour an image all green, I did feel quite chuffed with the end result on this one and I used a different flower die too!!
Last but not least....Bella Bunting is just so cool to colour, again I coloured this image with copics and then did some additional shading with pencils...lots of layers!!
I hope you like my selection and that you see the style that I like....
Fi
x